(Updated with the information from day 2)
Every year I look forward to Microsoft Build with great anticipation. Here, the technologies are presented that will accompany me and us in the next year and are a vision of where the journey is going.
And the first day consistently continues what last year's Build left off with. Quick reminder.
Last year the Fluid Framework was released (under the name "Loop Components") and the first Relays in Azure were on their way; the extensibility of Teams was highlighted and with GPT-3 Microsoft showed how to program PowerApps with "normal language" by describing what you want and the AI then picks out code suggestions. .NET 6 + .NET MAUI as well as HotReload still rounded out the build for developers.
And this is where Microsoft directly follows up again this year.
(For those who prefer to just read the list with all the updates, you can access the Book of News again – https://news.microsoft.com/build-2022-book-of-news/)
The Loop components or the Fluid Framework, as it is currently still called in the appointment, is only tomorrow. But already today it was shown how Microsoft envisions the journey around Teams.
Live collaboration
Among other things, there was real-time collaboration. It was shown here how different colleagues worked together on a visualization in a team call. The several visible cursors in the main area should indicate that there is not only one presenter, but that everyone can actively participate. This real-time collaboration is also the main idea behind the Fluid Framework. This capability should shortly be available in Teams applications in calls under the term "Live Share experiences for Teams apps". Devs can use herefore the new Live Share SDK which provides you with a separate Azure Fluid Relay Container – so inside of a call you'll get the whole collaboration abilities you'd normally have to spin up your own azure resource for. I look forward to many interactive meetings that use this technology in the future, allowing all participants to be involved in the action via interactions.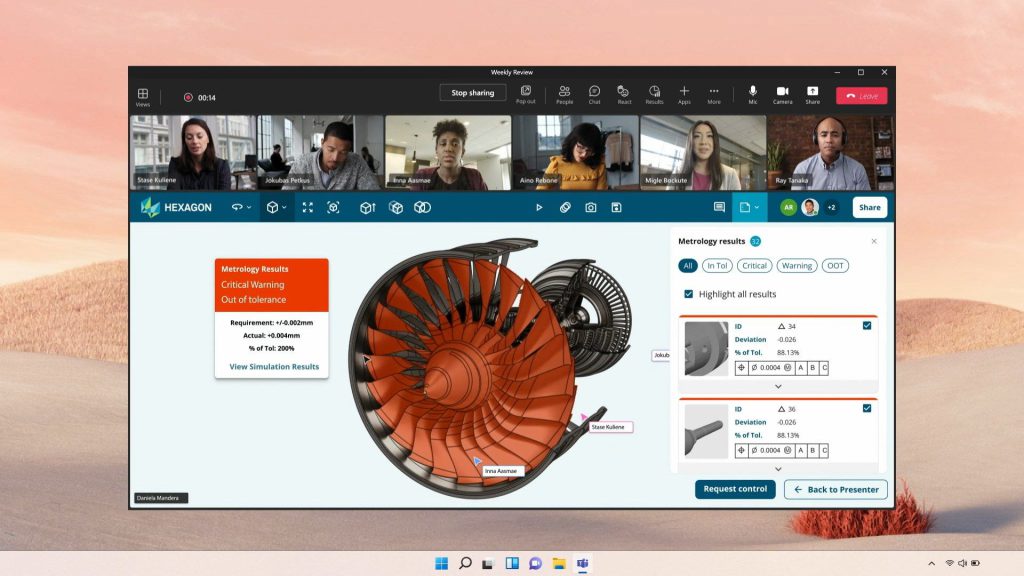 Monetize your app
In addition to the latest version of the Teams Toolkit, which allows users to develop their own apps with Microsoft Teams, the Teams app store also has a new feature: monetization. This makes it more attractive for developers to use Teams as the basis for their applications. After all, thanks in part to the pandemic, Microsoft Teams now has over 270 million monthly active users. However, the feature is still a long time coming for us in Germany. (By the way, just like my other hotly anticipated feature "Shared Channels")
AI driven development
Speaking of development: What started with PowerFX and GPT-3 last year is picking up more and more speed. Microsoft is currently experimenting with the manufacturer of the Maya 3D software to see how AI can be integrated into the tooling.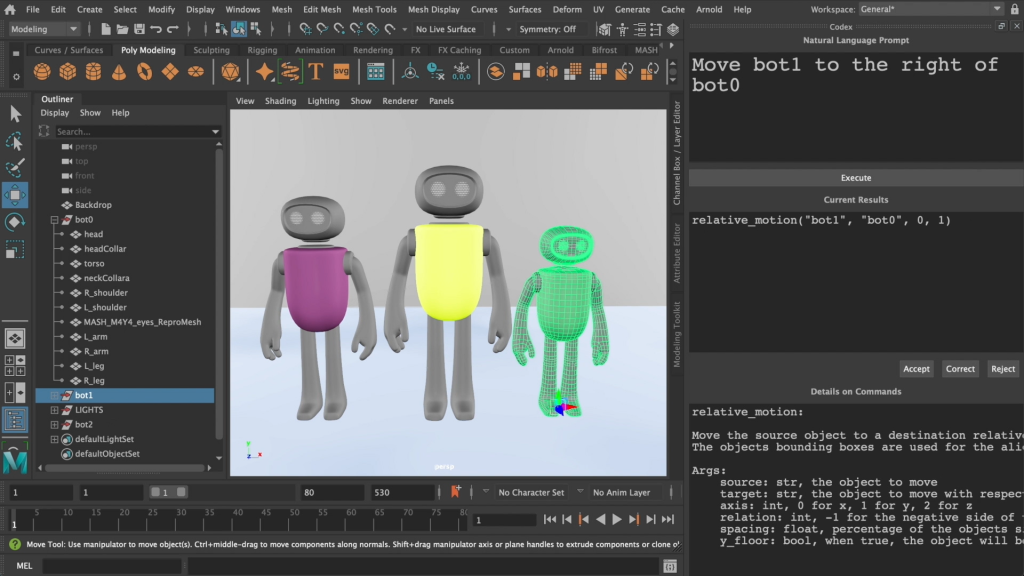 In a demo, simple operations such as recoloring elements, duplicating entire bodies, or configuring the environment (the viewing angle) using simple text inputs were demonstrated. HAVE A LOOK into the upper right corner of the screenshot. In the medium term, of course, no one can imagine office workers who sit all day in front of their PCs and give commands to their programs – but this shows once again how well simple steps can be automated.
Dev Boxen + Volterra
Windows Virtual Desktops have been known in Azure for quite some time. In combination with Github Workspaces, however, Microsoft now seems to provide machines that are explicitly designed for developers. This is called "Dev Box". However, we are probably only talking about a prepared image in Azure. However, with the promise of combined "always having the right tools" ready for the developers, one could well imagine that one or the other IT will simply boot up such a Dev Box for short-term tasks in the future, instead of making the effort to keep their own images up to date themselves.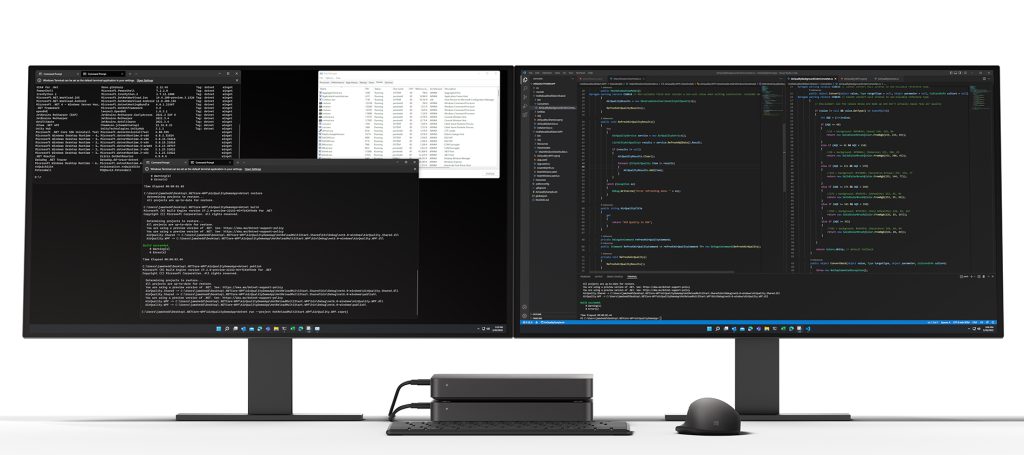 I am curious to see what Microsoft is up to with their Volterra project. The small black box is somewhat reminiscent of Valve's Steam Link and is called an ARM DevKit. The special thing about this little box is the included ML chip (NPU). However, not much else is known yet. Neither the price nor further hardware specifications. The highlighting in the product video that the device is supposed to be "stackable", however, arouses interest in me as to where Microsoft wants to go here.
Figma
My absolute highlight today, however, was the obvious collaboration with Figma. Not only did Figma announce their intention to use the aforementioned real-time collaboration of teams, they also came into play in a completely different place.
For a long time now, our UXers have been developing click dummies using design tools like Figma. Here, clients can use click paths to test at the design stage whether the concept for their planned app/website/application will work.
But here's the banger: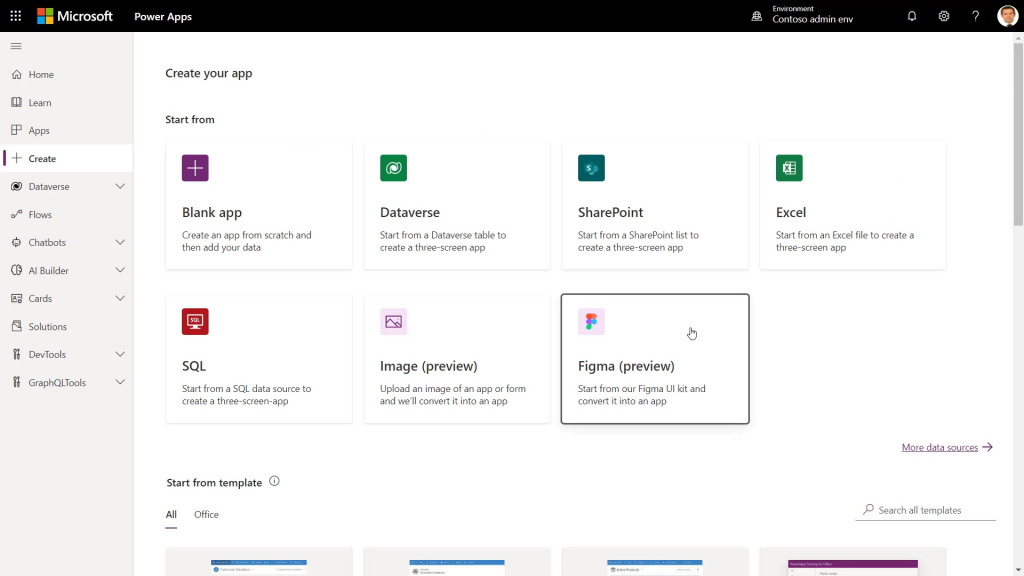 You can now load these Figma designs into PowerApp, which uses Cognitive Services Object Detection to examine the designs and build a working PowerApp from them! I'm curious about what's possible and VERY VERY excited to see how this will feel in practice.