I'm kind of a fan-guy. Apple stuff is really interesting and especially the latest iOS/iPhone version really seemed to be a good release again – something you don't wanna make jokes about like "oh – they added a new icon row" … So I sat down on 09-09 and wanted to watch the live event … unfortunately I got this: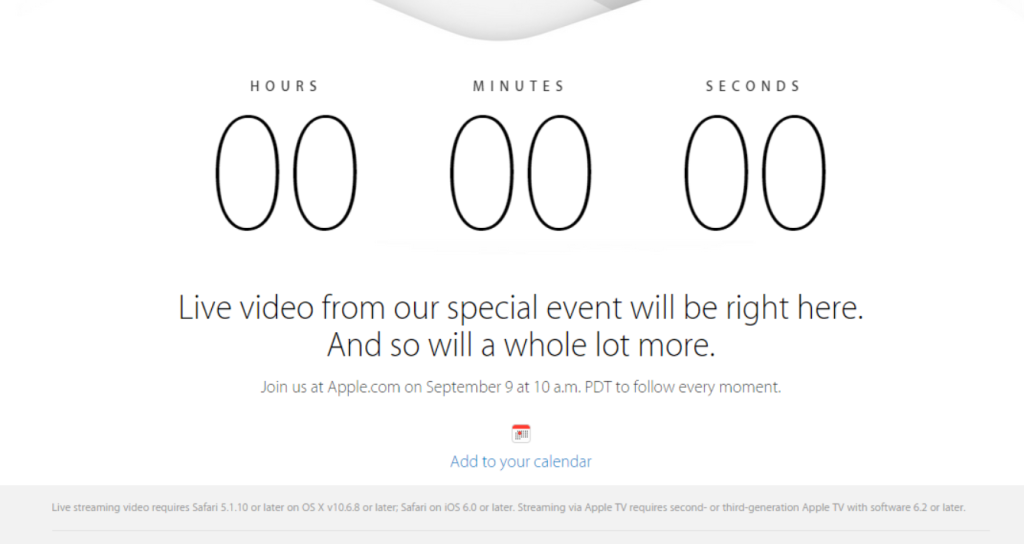 Uhm – seems like a normal countdown? Be happy! Cheer! It's starting now! … … … Nope … … … It's all about the little sentence below the "add to your calendar icon" … it reads:
"Live streaming video requires Safari 5.1.10 or later on OS X v10.6.8 or later; Safari on iOS 6.0 or later."
Come on! I'm on a Chrome – Webkit – that HAS to be sufficient … Nope … no Apple guy (my Mac-Mini is in a drawer, but I don't wanna unpack it and my Apple TV Remote is hidden somewhere between some other parts) … but – hey! You can't just lock out your fans, because they've got other devices as well. That's really not nice.
I still watched the stream … Some guys showed it, but made comments about everything, Stating every X minutes that "you could switch to the live-stream, if you didn't want to listen to them" … o0 … yeah… well …